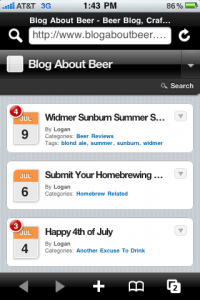 I know I haven't updated this site a ton since I took it over the beginning of this month, however I've been working on a few things and will start blogging close to daily come the middle of August. Until then, I'm in the middle of doing a nice redesign of this site, new logo, and adding more content.
One of the recent additions I've made was to create a mobile version of the blog, so now you can read Blog About Beer from your iPhone, Android, or most mobile devices.  A nice feature is that you don't need to remember any specific URL, as you just have to go to blogaboutbeer.com and it will automatically detect your device and redirect you to the mobile site.
It is beer fest season in Oregon with the Portland International Beer Festival this weekend and the Oregon Brew Fest next weekend, so I'll be a busy guy for the next week.
Have a great weekend.