With day length increasing as the season progresses, and with even the shyest of flowers beginning to bloom, it is clear that the rejuvenation of our landscapes is arriving in the form of spring.
This renewal which takes place every year transforms the barren into bounty and signals the rebirth of the nature that surrounds us. One part of this nature that I'm sure we are all appreciative of is hops!
So as the hop plants begin anew, another kind of "hopping" is occurring as the Easter Bunny starts to make his rounds!
Having a beer while coloring Easter eggs has been a tradition for me and my friends for quite a few years now and I have no plans on changing that. But before the white vinegar comes out and the hard-boiling begins, check out the amazing Easter basket Blog About Beer has put together!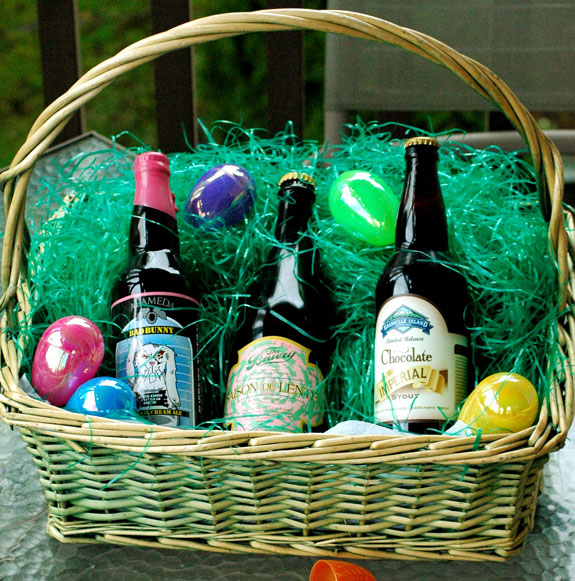 Alameda Brewing Bad Bunny
With a pink wax seal and a label adorned with a surly looking bunny being booked at a police station, this brew is Easter with an attitude!
A whopping 8.2% ABV Imperial Cream Ale, this beer has large quantities of Pilsner malt and candy sugar. With honey and sweet malts on the nose, there are also strong notes of fruit. The higher ABV makes itself known on the back end meaning this bunny got back for sure! This beer has a medium, creamy mouthfeel and enough sweetness to let imbibers know it belongs in an Easter basket.
The Bruery Saison De Lente
With mint green bunnies spinning in a vortex around a pink and green Easter egg in the middle of the label, this beer is a thematically perfect addition to the Blog About Beer basket.
Raspberries, orange peel, and a touch of farmhouse funk dominate the nose of this 6.5% ABV brew. Medium-bodied with a fair amount of carbonation, this beer has nice Brett, spice, and coriander notes that are all well-balanced in this dry-finishing offering.
Touted as being perfect for Easter celebrations, this saison delivers on its promise!
Granville Island Chocolate Imperial Stout
No Easter basket would be complete without a little chocolate…well maybe some big chocolate. How about 8.4% ABV chocolate?
Granville Island's Chocolate Imperial Stout delivers with their beer that is made with organic fair-trade chocolate. With chocolate-heavy aromas as well as roasted grain, this medium-bodied stout finishes with tons of sweetness with a noticeable amount of booziness. Very little chocolate bitterness is present in this incredibly well-balanced chocolate treat.
Regardless of how you celebrate the beginning of spring, help out our "hoppy" friend and put together an Easter basket of brew for one of your beer-loving "peeps" this holiday!