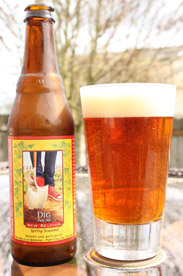 Oh the joys of mid-April. The stress of taxes have left many people reaching for a beer (ok, maybe something a little harder depending on your situation) to help take the edge off.
Luckily for my wife and I we didn't have to pay as much as we were expecting which is definitely a reason to celebrate with none other than beer. Since she is pregnant with our second daughter, it ended up being just me celebrating with the good stuff.
One beer I grabbed as I was doing my "taxes are in" dance was a New Belgium Dig, which is New Belgium Brewing's new spring seasonal that they just released in January.
Dig is an American Pale Ale brewed with Sorachi Ace, Nelson Sauvin, Cascade, and Centennial hops with a slightly bitter 36 IBU's and packing an easy drinking 5.6% ABV.
Dig poured a fairly clear copper color with lots of carbonation bubbles racing towards the top of the glass were they were met with about a finger of lightly tan head. The head stuck around awhile and left some nice lacing on the side of the glass.
The aroma was very mild with malt being the center of attention with some side shows of lemon, mango and other tropical fruits quietly making their presence known. I really had to dig my nose in it to detect much smell however.
With such a weak aroma I was pretty surprised at how much flavor Dig had, and it was delicious. The somewhat sweet malt flavor quickly turns over to a more biscuity malt with a touch of carmel before laying down the red carpet for the hoppy goodness that follows.
The hops in this bad boy are well balanced and a heck of a lot more interesting than a Kelly Clarkson concert. Citrus dominates the flavor with some sweet tropical fruits of mango, peach, and passion fruit weaved into the taste in a way that makes me want to be sitting on a beach watching the waves roll in.
Overall this is one of my favorite beers I've had from New Belgium. While the aroma was the only downfall, it has a lot of character that is sure to make make any tax day more enjoyable.
My New Belgium Dig Review: B+
Here are the details:
ABV: 5.6%
IBUs: 36
Style: American Pale Ale
What's your thoughts on New Belgium Dig?