If you follow me at all on Twitter, you may have heard me talk about a new book that I wrote on Oregon beer, simply called Beer Lover's Oregon. Well the time has finally come where it's starting to hit store shelves and available to order online. Finally!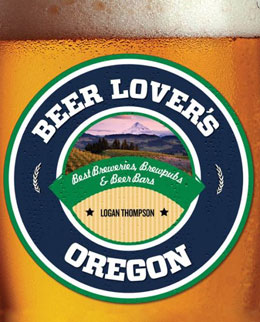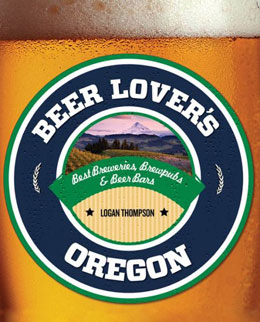 I started working on it last May and most of the content was submitted to my publisher by September.
It takes a while for editing, layout, and all of that fun stuff. The book covers most of the breweries and brewpubs in the state, along with a handful of craft beer bars, festivals, beer recipes, food recipes made with Oregon beer, and pub crawls throughout the state. With the fast growth of the industry in the state, multiple breweries have opened up since I submitted my final manuscript, however most are listed in the book giving readers an overview of what's available in the state.
Whether you live in Oregon or the surrounding states, or plan on visiting, I believe everyone can learn something from the book. In researching I found some small breweries in the far reaches of the state that I had never experienced before, and believe me, they make some amazing beer.
So what about the chance to win free beer? I thought you'd never ask (ok, I knew that was the reason you are probably even reading this post.
The Contest
To celebrate the launch of my new book, I'm going to giveaway a copy of the book. Not only that, but the winner will get a $25 gift certificate to buy beer at LetsPour. So while reading about Oregon beer, you can be drinking beer from Oregon (or wherever you choose). Sounds cool right? Free beer and a free beer book.
Who Can Enter The Contest
Ok, before I get into how to enter, I wanted to touch on who can enter.
First off, there is no purchase necessary, just follow the rules below.

The contest is only open to those 21 and over.
The contest LetsPour gift certificate isn't available to those in Alaska, Alabama, Arkansas, Delaware, Hawaii, Kentucky, Massachusetts, Minnesota, Mississippi, New Jersey, Oklahoma, Pennsylvania, Utah (sorry, they don't ship to these states because of your states laws. Contact your state governnment to have them ease up on the beer shipping laws). In exchange, if you live in one of these states I'll replace the $25 gift certificate with one from either Amazon.com or if any of your local beer joints allows for buying gift cards online, I'll do that instead.
How To Enter
Entering the contest is pretty simple (but does take a little creativity on your part). You must complete the following 2 tasks to enter:
You need to "Like" the Blog About Beer page on Facebook (if you already have liked our page, you can skip this step). Do that here:
You need to comment below with your answer to the following question. If you could create your dream 6 pack (mix and match) of Oregon brewed beers, what would it consist of? (If you haven't had any Oregon beers, just write down 6 you'd love to try)
That's it. And don't worry, your answers have nothing to do with who wins. They just count as your entry. However you do need to list 6 beers for it to be counted as an entry.  Make sure to list your best email address in the comment form below as that is how I'll be contacting the winner. The entries will be numbered and I'll be using a random number generator on Monday, April 15th to select the winner. All entries must be submitted before 11:59pm PDT on April 14, 2013. Oh, and if you're interested in buying the book if you don't win (or can't wait), you can order it here on Amazon. You can also find it at many book stores in the coming weeks, as well as Powell's if you're in the Portland area. Best of luck.
Thanks to all who entered. The contest is now closed and the winner is being contacted by email.