I got a press release today and just had to write a post about it.
Many beer fans know Bend, Oregon as a great beer city as it hosts many craft breweries including Deschutes Brewery. Other people know Bend as a great cycling town. I'm not much of a cycler, but I may just have to go down to Bend to try cycling out. I'm not talking about just any cycling though, I want a ride on the Cycle Pub.
Last weekend the Cycle Pub debuted at the Bend WinterFest.  What is the Cycle Pub you ask?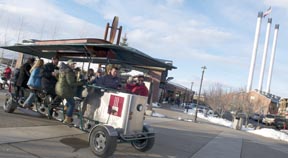 Well, it's a pub/bike combo.  It's a non-traditional bike that seats up to 16 people (12 pedaling and one comfy couch that fits non-pedalers), along with cup holders for everyone to hold the environmentally friendly, non-breakable and locally made Silipint cups.  Did I mention that it also has a bar with a sound system (or the option to have a live musician with you on the bike) and TV?  Basically you can rent the Cycle Pub with 15 of your closest friends and do a brewery tour throughout Bend.  You can bring your own snacks, beer, wine, and it is even equipped with a twin-tap beer tower and a water tank so you can stay hydrated while peddling (in between beers).
The Cycle Pub was the brain child of Bend resident James Watts, who loved the burgeoning beer culture in Bend enough to pour his heart into this unique project.
At first I thought this sounded pretty crazy, but the more I think about it, the more it works.  This very much captures the culture of Bend, plus you are working off the calories so you can drink more beer and have a blast with your friends.
A few years ago I rented an 8 person bike (which I think we crammed 9 people on) at the beach and drove that thing around for a few hours.  It was a ton of work to peddle, but we had an awesome time.  I could only imagine it being a lot better if there was some good beer involved.
I think I'll get those same friends and make a trip down to Bend this summer and take the Cycle Pub for a ride.
You can check out more information at the Cycle Pub site.
What do you think?