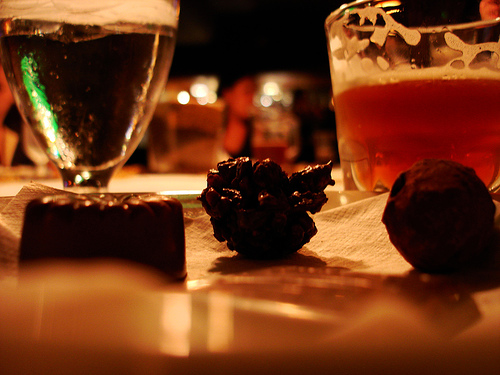 When you think of Valentine's Day, what comes to mind? Roses; chocolate; diamonds; Hallmark; sappy love songs? Of course. But Beer? No? Well, it should! As "The Beer Goddess" Stacey Faba — owner of Pauly's Specialty Bottle Shop in Lowell — Michigan explains,
"Jolly Pumpkin Brewery's brown ale with its cocoa and spices is fantastic with a raspberry truffle… I'll say it's one of my happiest pairings of all. The chocolate just melded into the beer. It tasted like it belonged with the beer… Chocolate and beer is just a fantastic combination and the easiest pairing is dark beers, like stouts and porters, with chocolate… So when I do beer and chocolate pairings, I like to find things that wouldn't naturally come to mind."
Pairing beer and chocolate creates an entirely new flavor sensation, one that cannot be obtained by pairing chocolate with anything else. Says chocolatier Charles "Smitty" Golczynski, the executive chef at Michigan's The Catering Co.,
"It's actually easier to pair beer with chocolate than wine with chocolate," Golczynski said. "Sometimes, the intensity of chocolate takes over wine and the acidity in wine, doesn't balance right."
So tomorrow when you're curling up by the fire with a loved one and a box of Godiva Truffles
, reach for a big bottle of Stout to go with (or better yet, make a plate of brownies from both). Happy Valentine's Day!
[image by tinkermel]
"Here's to beer and chocolate, the perfect match" [Mlive.com]
[tags]Valentine's Day, Chocolate, Beer, Beer Pairing[/tags]