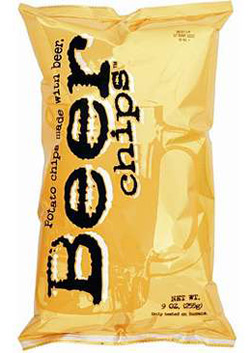 Anything made with beer is usually better. That's why I was excited to try out some potato chips made out of beer which are simply called Beer Chips®. People have been pairing beer with mixed nuts in bars for too long and I'm a fan of trying new snacks.
Beer Chips are actually made with real beer although the flavor (of beer) isn't very strong. The ingredients include potatoes, sunflower oil and/or corn oil, sugar, maltodextrin, beer (malted barley, corn syrup, hops, yeast), salt, honey, and yeast extract.
If you like sugar, you will love these chips. They are pretty dang sweet, but I think I found my new favorite snack to eat while drinking a summertime brew. While I think these pair well with most beers, I would probably choose an IPA or Pale Ale.
The cooking process takes out the alcohol so you will definitely need a beer to drink while eating them, but that definitely isn't a problem.
The only thing I don't really like about them is that they are TOO good and I could very well eat the whole bag if I'm not careful. No, this isn't a paid review for them, I just really enjoyed these chips.
Have you tried them?  What did you think? If you want to give them a try, I see that World Market carries them.