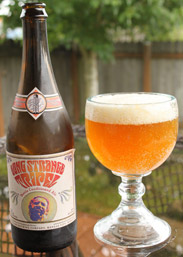 I'm sitting here in my office listening to the glorious sound of an I.P.A. I brewed this weekend fermenting while sipping on a great tasting beer and writing about it. I love Mondays.
Today I decided to check out Boulevard Brewing's Long Strange Tripel to represent Missouri in my 50 beer challenge which I happened to pick up on a trip out to Chicago a couple of weeks ago. While I've never been to Missouri, I definitely know there is a lot better beer being brewed there than what the state is typically known for.
Just like the name says, Long Strange Tripel is a Belgian Tripel that's available year round and only comes in 750ml bottles (or probably on tap somewhere in the midwest). There was a pretty big "pop" when uncorking the bottle that made the experience a little exciting.
This beer poured a fairly golden orange color with a ton of carbonation dancing in the glass that made it somewhat fun to just stare at. There was a small layer of off white head that was pretty much completely gone in about 45 seconds with very little lacing. It almost has the look of a darker orange soda.
The aroma is packed with Belgian yeast and fruit.  I pick up some bananas, oranges, pears, and maybe a bit of mangos with a slight spicy undertone.  It's a pretty great smell that is a perfect lead into the flavor.
The taste is incredibly clean with Belgian yeast, sweet malt, and fruit being the main flavors. There is a slightly boozy flavor that is well integrated so as to not be overpowering. I would best describe the flavor as a fruit basket in my mouth.  There is quite a bit of apricot, pineapple, and orange flavors that dance with a slight spiciness that is pretty well balanced.
For 9% ABV, the alcohol is hidden fairly well which could could make this beer a bit dangerous as it sneaks up on you pretty quick. As far as tripels go, this one definitely has it's own unique character that I really appreciate.
If you can find Long Strange Tripel near you, it's worth a drink if you've never tried it (or if you have).
My Boulevard Long Strange Tripel Review: A-
Here are the details:
ABV: 9.0%
IBUs: 23
Style: Tripel
What's your thoughts on Boulevard Long Strange Tripel?