Spurred by the explosion of the mirco-brewing phenomena, home-brewing and home-brewers are enjoying a renaissance. According to the American Homebrewers Association, hundreds of thousands of enterprising sudsmen are spending hundreds of hours each year tinkering with carboys, brew pots, and wort chillers. Home-brewing is a race of sorts, a competition to win one's own tongue. There's no official winner and no grand prize in the pursuit of the next great beer. But in the end, we all win.
While these multitudes of micro-micro-brewers are matching their slightly larger micro-brewing compatriots' beer for tasty beer, they're distinctly lacking in one key category: great beer labels.
Every great microbrew has a correspondingly awesome label. For example:
Arrogant Bastard Ale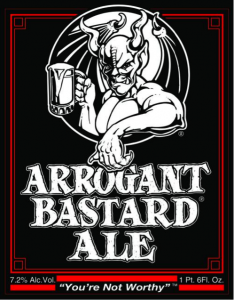 Brewery: Stone Brewing
Strength: 7.2 ABV
Arrogant Bastard Ale was one of the first beers to really push the "cheeky name" envelope in the microbrewing world. The beer's maker, Stone Brewing Company, had the chutzpah to pull this off as one of the most consistently highest-rated beer maker in the world. In fact, Beer Advocate named them the "#1 Best Brewery [of] All Time Ever" two years in a row (though we might ask why they'd need to vote more than once on the best brewery of "all time"). As its confrontational name and slogan hint, this beer isn't for everyone. But its label is a perfect example of a brand taking a beer from "great" to "legendary."
The Governator Ale
Brewer: Portland Brewing Company
Strength: 5.2% ABV
The Governator was a "toast" to the famous former Terminator Governor made by Pumping Iron Brewing (a fictional brewery standing in for Portland Brewing Company). The limited edition, extra special bitter beer was billed as the answer to "girly-man beers," and sold out quickly due to its relatively short run. The beer's fate was doomed when representatives of the former body builder threatened to sue. Rather than risk the vagaries of the judicial system, the Governator was sadly put to rest. It's amazing beer label, however, lives on in our hearts.
Old Leghumper Robust Porter
Brewery: Thirsty Dog Brewing Co.
Strength: 6.7% ABV
Old Leghumper is the Akron-based Thirsty Dog Brewing Company's year-round porter. Like the happy puppy that graces the label's legs with its affections, the deep-roasted, almost milky-thick malty chocolate beverage is great for all occasions, but especially during cold winter nights. This bad dog beer won World Beer Cup Gold in 2002—one can only imagine that the judges were won over by the label's charm.
And this is just a smattering of the amazing beer labels on the market. But think: how many MORE great beer labels would we have if all of the home-brewers made custom beer labels for their brews?
It takes so little to come up with a beer label. Using a free raster graphics editor like GIMP, you can make custom beer labels to complement your homemade brew. After all, doesn't every great beer deserve a label proclaiming its excellence?
Many home brewers don't recognize just how easy it is to create and order custom beer labels for their bocks, weisses, and stouts. All it takes is a computer, a little creativity, and an excellent commercial printer.
What would you name your beer after?
Note: This is a guest post written by Jessica Wiener.