It's the 3rd day of the Christmas Beer Fun series and today I'm taking a look at some great Christmas beer labels. I haven't tried many of these beers, but they have some pretty good and/or funny labels.
With over 1700 breweries in the US alone, I'm sure I'll miss some good ones, so be sure to mention them in the comments section below.
Santa's Butt Winter Porter
From Ridgeway Brewing in the UK is Santa's Butt. It must be a huge porter.
Seriously Bad Elf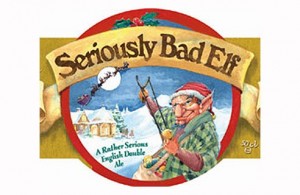 Also from Ridgeway Brewing, this English Strong Ale is one bad looking elf for sure.
Santa's Little Helper
So a bear and reindeer walk into a bar. Santa's Little Helper is an imperial stout from Port Brewing Company out of San Marcos, CA.
Ninkasi Sleigh'r
One of my favorite easily accesible (for me) Christmas beers from Ninkasi Brewing in Eugene, OR, Sleigh'r is a dark doublt alt with a ton of great flavor.
The Mad Elf Ale
I'm not sure why all these Elves are either mad or bad, but it makes for a good label. Mad Elf Ale is a Belgian Strong Dark Ale brewed with honey and cherries from Tröegs.