Many of you may remember my post on the beer baths that the awesome people of the Czech Republic get to enjoy at the Chodover brewery. Sadly, no one has offered to send me there to fully experience the glory and wonder of this exciting way to enjoy beer. (He typed grudgingly.)
But, I'm not bitter.
I wanted to figure out a way for one to treat oneself to the therapeutic effects of beer (other than the obvious one) without all of the jet-lag, expensive plane tickets, or the ever-so-helpful TSA.
Now, for some of the ladies that read this blog, the idea of "pampering" yourself with fancy shampoos and creams isn't such a big deal. But for many of you guys out there, that idea just might elicit a snicker and an eye-roll instead of an enthusiastic clicking of the "add to cart" button on your computer screen.
So, with that in mind, I will do my best to make "man pampering" as masculine and as bad-ass as possible! (Cue Motörhead's Ace of Spades)
A haircut and a shave are on my manly list of manliness, so I decided to go to a manly place to do it. The Mob Shop in Gresham, Oregon seemed to have the right amount of toughness I required. With an Italian flag waving out front and enlarged old black & white pictures of owner Jeffery John Grandi's very, very Italian family adorning the walls, I knew I had found the right place. I needed a haircut for sure, and they always wash your hair before cutting so I brought along a bottle of Bröö Hydrating Porter Shampoo. Although it is made with real Oatmeal Porter, don't drink it…please.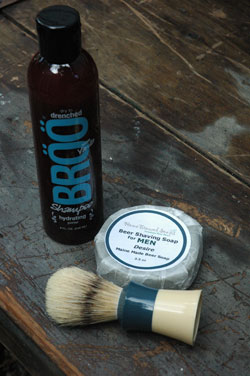 Bröö is a company that makes shampoos, conditioners, and body washes that all feature beer as the key ingredient. Pale Ales, I.P.A.'s and Porters find their way into these products, and each beer used is chosen for its specific effect on the hair or body.
The nose on this shampoo is bursting with vanilla and toffee notes, with hints of chocolate and coconut as well. Coming from the "hydrating regimen" of Bröö's product line, the hydrating qualities of the oat proteins mix it up with the vitamins and minerals found in the porter brew to hydrate your unruly mane. After application, caramel seems to be the defining aroma wafting off your follicles.  Again…please do not consume this product.
With my hair clean and cut, the bad-assary continued with a nice shave.
I found a site called Home Brewed Soaps which sells natural homemade soaps made with home brewed beer. I ordered a puck shaped bar of their shaving soap to give it a try!
This soap is comprised of home brewed Organic Amber Ale, shea butter, avocado oil, coconut, as well as castor and olive oil. This stuff goes on old-school by wetting a shaving brush and then whipping the bar of soap into a froth before application.
Trusting Mr. Grandi with a razor to my neck, (with visions of Albert Anastasia in my head) we proceeded.
This soap is touted as having Oak Moss and cedar wood scents on it and they got it dead on. This very aromatic shaving soap has a very masculine scent to it. Paired with a nice sharp new razor blade this felt like the cleanest, closest shave I've ever had.
Neither one of these products made me smell as though I just "tied one on" at a local watering hole so that was a bonus. I was so fresh and so clean after getting "Mobbed" at this local establishment, I will definitely be returning!
So, if you know an über beer lover (stop pretending you don't) then give one of these products as a gift, or buy it for "your girlfriend" who lives in "Canada." Either way, these manly items have a manly place in your daily ablutions! After all this "mampering," I was ready for a beer for sure.
But what is the perfect beer for after a haircut? Help me out readers!