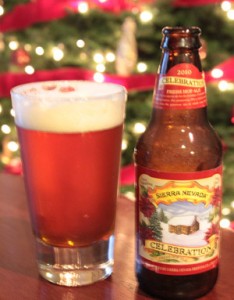 What better way to celebrate the holidays than to drink beer.  With so many holiday brews on the market though, it can sometimes be tough to decide which seasonal beers to try.  You can do what I do, try them all.  If that isn't an option, read some beer reviews and find a beer that you might like.
My second seasonal review of this holiday season is Sierra Nevada's Celebration Ale. It's an IPA, so if you love bitter beer, read on.
The beer pours a beautiful rosy amber color with a very nice head.  The picture I took doesn't do it justice as I'm still trying to figure out my camera (it kept focusing on the Christmas tree so it had already been poured awhile by the time the picture was taken).  Celebration had nice lacing and is what I would probably consider "perfect" lacing if I could have it my way.
I think my favorite part of this ale is the aroma.  I wasn't that close to the glass when I was pouring and I could immediately start smelling a beautiful smell that almost made me bust out singing Christmas carols out of pure joy. It smells of citrus and piney hops, almost as if it was a Christmas tree turned into beer. Yum.
With the aroma being so good I was expecting a lot out of the taste.  I was a little disappointed though on my first drink.  Don't get me wrong, it was really good, just not special.  It did have a nice hoppy flavor that had hints of orange and grapefruit.  I'd probably consider it a good IPA to drink if you like hops, but not a lot as the hops seem fairly weak for an IPA.
I did enjoy drinking this beer more and more as the glass started to get emptier, especially since it is such an easy drinking beer. Definitely give it a try this holiday season if you're looking for a very drinkable beer.
My Sierra Nevada Celebration Review: B+
Here are the details:
ABV: 6.8%
Style: IPA
What's your thoughts on Sierra Nevada Celebration?
Note: If you represent a brewery and are reading this and would like your beer reviewed on BlogAboutBeer.com, please contact me for more info. Thanks!