Yesterday I stumbled upon one of the greatest sites a craft beer fan could visit. Taplister, which has been around since 2009 (yeah, my head must have been buried in the sand), allows you to easily see what beers are on tap in your city.  This is a pretty simple, yet brilliant concept. Instead of looking for a bar, I just look up what I want to drink and it tells me where I can get it on tap.
Think of it as a search engine for beer.
The tap list is updated by fellow beer geeks using a combination of Twitter, their website, and a mobile app (both iPhone and Android apps available) which allows for up to date information on what is being poured and were it is located.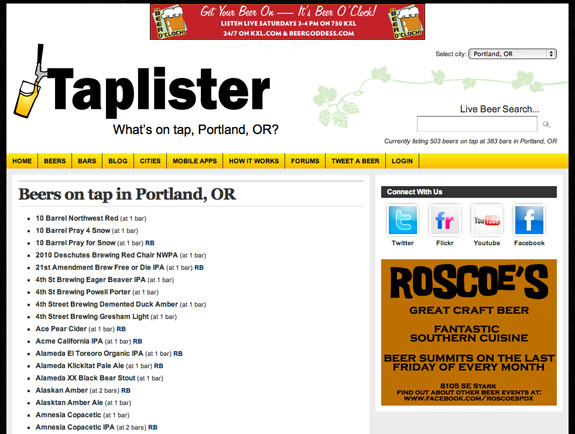 If you're in the Northwest, most major cities are covered and it looks like they are expanding to many cities nationwide with 45 cities represented at the time of this post.
If you're from any of the following cities or are looking for beer near them, head on over to Taplister today.
Albany, OR
Astoria, OR
Austin, TX
Baltimore, MD
Bend, OR
Birmingham, AL
Boise, ID
Boston, MA
Boulder, CO
Charlottesville, VA
Chicago, IL
Columbus, OH
Corvallis, OR
Dallas-Ft. Worth, TX
Denver, CO
Duluth, MN
Eugene, OR
Hood River, OR
Houston, TX
Kansas City, MO
Knoxville TN
Las Vegas, NV
Los Angeles, CA
Madison, WI
Milwaukee, WI
New York, NY
Newport, OR
Pendleton, OR
Philadelphia, PA
Phoenix, AZ
Portland, OR
Portsmouth NH
Sacramento, CA
Salem, OR
San Antonio, TX
San Diego, CA
San Francisco, CA
San Jose, CA
Seattle, WA
Spokane, WA
St. Louis, MO
Tacoma, WA
Twin Cities, MN
Vancouver BC, Canada
Yakima Valley, WA