This post is (mostly) unrelated to beer, except that I'll "check in" at beer-related venues and beer-related events as much as possible. That and I like to build a community among the BlogAboutBeer.com readers as much as possible, too. Therefore, I signed up for foursquare.com a few days ago and added their BlackBerry application so that I can "check in" on the go. If you use Foursquare yourself, please become my friend @livingstonmedia (the same name as my Twitter handle).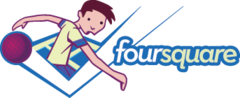 If you're unfamiliar with Foursquare, it is a web and mobile application that allows registered users to connect with friends and update their current locations. Points and "badges" are then awarded for "checking in" at venues (such as bars, restaurants, stores, ballgames, etc.). Users can also choose to have their Twitter and/or their Facebook accounts updated by Foursquare when they check in somewhere. If you visit a venue more than anyone else in the Foursquare system, you are crowned the "mayor" of that location and your mayorship is shown off on your profile.
Possibly the neatest behind-the-scenes thing about Foursquare however is the fact that the application can notify the owners of companies/bars/what-have-you when members are visiting their establishment and many companies have begun to offer discounts when users check-in, or special "mayor privledges", etc. It'd be great to see some more beer-themed venues offering such discounts. Maybe $1 off drafts, for instance?