If you're like most self proclaimed beer nuts out there, I'm sure you own a whole plethora of bottle openers. Over the years I've collected (and broken) many bottle openers in all shapes and sizes.
Still, the Corona opener I got on my honeymoon in 2004 still reigned supreme in my cap popping activities. Not that I'm a fan of Corona (far from it), but I just liked that opener. It worked well for many years. However it did split reps with my reef sandals with the opener on the bottom which I wear pretty much every day of the summer.
Last week my precious tool finally died. In a battle with a bottle cap, the cap won and the opener ended up in pieces on the ground.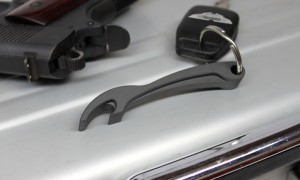 Luckily for me Mike over at TORQ Bottle Opener in Pearl City, Hawaii happened to send over one of his bottle openers and I quickly fell in love.
First off the TORQ bottle opener is a beast. Honestly I don't see how this will ever break throughout my entire life. Aside from losing it, I think it could pretty much withstand everything from a fire to a zombie attack.
They offer 4 different versions:
Parkerized Steel Allow (the one I have)
Stainless Steel
Naval Brass
Titanium
These are some pretty solid tools that could be used as a paper weight or self defense weapon if needed. With nice clean lines, no annoying branding, a hole to add it to a keychain, and the power to pop caps all day long, I've grown to love my new opener quickly.
Where To Get TORQ Bottle Openers
TORQ is a brand new company that is just starting out and are looking for a little help. They've recently launched on Kickstarter.com to raise funds to start mass production on these openers. With a donation you can get your own (and I'd highly recommend it if your looking for a solid durable bottle opener).
Check out details here. Thanks again to TORQ for sending me a sample. I genuinely hope their business succeeds.
Curious as to how tough they really are? Check out this video: