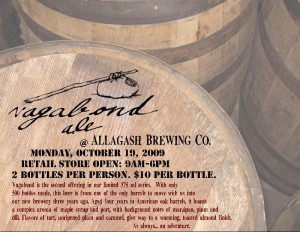 Maine's most well-known beer geek brewery, Allagash Brewing (the only Maine brewery to win a medal at the 2009 GABF), has announced the release of the second beer in their new 375 ml series: Vagabond Ale. Vagabond is the follow-up release to the brewery's now famous Gargamel Ale, which was released this past May.
Vagabond was aged for four years in American oak barrels and features a "complex aroma" of maple syrup and port; "background notes" of marzipan, plum and dill (which doesn't really seem to jive with maple, marzipan or plum, but we'll see); and flavors of tart, unripened plum, caramel and a warm toasted almond finish.
Now the exciting part. Just like with Garamel, Allagash is releasing Vagabond on a VERY limited basis. The beer — of which there are only 500 bottles — will be available ONLY at the Brewery (on Industrial Way in Portland) and ONLY from 9am to 6pm on Monday, October 19th. There is a 2 bottles per person limit and each bottle will cost $10.
If you're after a bottle, be sure and arrive at the brewery early. Last time there was a line already formed when I arrived at 8:30 and that was in the pouring rain for the first beer in the series. Now that there's a bit of hype around the Allagash 375 Series, you can expect Vagabond to be even more exclusive.
I'll see you there!