According to a press release from Flying Dog Brewery, they will soon be one of many craft breweries participating in a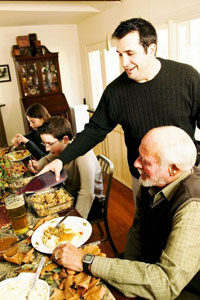 national program called Craft Beer and Food for the Holidays–a free program organized by the Brewers Association–which highlights the ways in which beer styles complement many traditional American holiday foods.
The program (located online at www.beerandturkey.org) explores the pairings of ale with traditional American holiday favorites, a pairing frequently mentioned in reference to the Pilgrims and the first Thanksgiving.
The web site was created in 2006 to encourage those hosting holiday celebrations to include craft beer in their holiday dinner menus. www.beerandturkey.org has information for beer and food enthusiasts who want to learn "what to drink" and "how to serve" craft beer at their holiday meals. There is also a database of breweries who have posted their holiday release
beers and information on holiday dinners associated with the breweries.
According to the press release from the brewery, The Brewers Associates notes that caramelized and toasted grain flavors in many beers complement the flavors of roast turkey while herbal hop additions pair nicely with popular holiday seasonings such as sage. Furthermore, the carbonation, fruitiness and balanced bitterness of many craft beers allow them to stand up to creamy, butter-rich preparations like mashed potatoes, creamed corn and similar fare.
Julia Herz, Director of Craft Beer Marketing for the Brewers Association stated,
"Our country's history is rich with stories of beer and food and craft beer picks up where wine leaves off. Many styles of beer both complement and contrast the food they are paired with, whereas wine mostly contrasts. The holiday dinner table is a very appropriate place for beer made from America's small, independent and traditional brewers."
[images via beerandturkey.com]
–