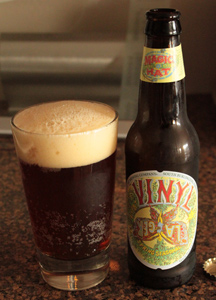 Spring is just around the corner and a lot of spring seasonal beers are starting to come out.  One of those is Vinyl Amber Lager from Magic Hat Brewing Company out of Vermont, and I was fortunate enough to have them mail me out a bottle to try.
Probably one of my favorite things about Magic Hat is their marketing.  I know it's not the most important thing to beer, but I enjoy it a lot.  I love going to a beer store and just checking out the label designs. Vinyl does have a pretty cool label that reminds me of the 1960's (even though I wasn't there).  The design was pretty fun and the bottle cap had a nice message underneath.
For a Lager this beer poured a rich Amber color that just screams drink me.  It had a fairly thick layer of head which left a little lacing on the glass.  I really enjoy just looking at this beer as it just looks delicious.
It did have a pretty strong lager smell, although it reminded me a bit of the smell you get when you're standing in a food line at a sporting event where cheap beer (well, it's not cheap there, but the taste is still cheap) has been spilt. I thought it did have a fairly strong yeast smell mixed with notes of carmel and smoke.
The first drink I had surprised me with a smoky flavor that I wasn't expecting. After being punched in the face (ok it wasn't really that strong) with the smoky flavor, there is a pretty solid malty bread-like flavor. It's not a super complex beer, but I really did enjoy it. The beer is brewed with Northern Brewer hops, so there wasn't much for the hopheads out there to get excited about. My only critique of this would be that it needed slightly more hops to add a little more to the flavor.
Overall this is a very drinkable beer. It doesn't really make me think of spring however and I think Magic Hat needs to just make this a year round beer. I'd definitely drink this one again.
My Magic Hat Vinyl Review: B+
Here are the details:
ABV: 5.1%
IBUs: 20
Style: Lager
What's your thoughts on Magic Hat Vinyl?
Note: If you represent a brewery and are reading this and would like your beer reviewed on BlogAboutBeer.com, please contact me for more info. Thanks!