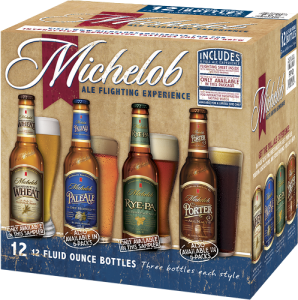 I got an email this morning from the folks at Michelob Brewing Co. (owned by Belgium's largest brewery – Anheuser-Busch) alerting me to the release of their new "Ale Sampler Pack". Usually when I receive press releases from any of the brewing behemoths like Michelob, they go straight to the virtual trash can. But, for whatever reason, I guess they caught me at the right time during my email purge this morning and I decided to give the press release a quick glance-over. Here's what it said, in so many words:
Apparently Michelob is releasing a new "Fall/Winter sampler pack" featuring four ales: Michelob Porter, Michelob Pale Ale, Michelob Bavarian Style Wheat & the new Michelob Rye P.A. From the press release,
Michelob Rye P.A. is a robust ale with distinct bitterness, perfectly balanced by complex malt flavors and the spiciness of rye. Previously only shared at beer festivals, this highly anticipated beer is being introduced exclusively in the Michelob Brewing Co. Fall/Winter Sampler Pack.

Malt: Two Row, Caramel, Rye
Hops: Columbus, Cascade; 50 IBUs
ABV: 5.9%

Michelob Bavarian Style Wheat is an unfiltered wheat beer that is lightly hopped and fermented using a unique yeast strain to create characteristic banana and clove aromas. The beer was originally introduced in 2006 as part of a sampler pack and made available seasonally in 2007.

Malt: Two Row, Wheat
Hops: Cascade, Hallertau, 13 IBUs
ABV: 5.2%

Michelob Pale Ale is dry hopped to produce a delicious floral and citrus nose. This balanced ale pours a thick foam head and displays a deep, orange-amber color. Michelob Pale Ale's spicy tones and a slightly bitter profile are balanced with a clean finish.

Malt: Two Row, Toasted and Caramel
Hops: Hallertau, Saaz, Cascade; 37 IBUs
ABV: 5.5%

Michelob Porter showcases bold coffee and chocolate tones with subtle notes of raspberry and pine. With a lineage tracing back to 18th century London, our porter displays the creamy texture and hearty flavor that made this English-style ale famous.

Malt: Two Row, Toasted, Caramel and Chocolate
Hops: Willamette, Saaz; 25 IBUs
ABV: 5.9%
So yeah, there you have it. But my real reason for posting this is that I'm really intrigued about who the folks at Michelob think will buy these sampler packs. I know that the muckety-mucks at "The Big Three" have been scared of craft beer for awhile now. While the total consumption of craft beer still pales in comparison to that of macro-brewed swill, its numbers have steadily been on the rise for years now, while sales of macro-brews have remained completely stagnant. So of course they're worried, and those worries lead to the mimicking of the little guys (the Michelob Mix Pack certainly isn't the first attempt by AB at craft beer-styles).
But what I'm wondering is who in the hell is going to buy these mixed packs?! My guess is that 96% of craft beer drinkers will stay away and not even give the beers a try, simply because the label reads "Michelob". Even if they're interested in the styles, or in intrigued by what Michelob is up to, craft beer drinkers like to support the little guys — that's part of the reason we drink what we drink — and they're not going to fork over hard-earned drinking dollars to Anheuser-Busch when those same dollars could go to the brewery down the block.
And Michelob drinkers drink Michelob Ultra or Michelob Lite and they do so for one reason — it's not about taste, craft or quality. That's not why they drink. So will these new flavors that Michelob drinkers probably haven't even ever heard of (no offense) really sway them from their light-beer-drinking ways? No, probably not.
I don't get it; who are these beers really for? Who will drink them? Will you?