Just a quick update for all you Maine readers out there: while you're all patiently waiting for the arrival of Baxter Brewing Co. beers this fall, you'll have some new out-of-state beery arrivals to help tide you over. Three breweries from across the country have started to distribute their beers in the state of Maine this month and their arrivals are absolutely welcome ones!
First, a the first of May heralded the long-awaited arrival of Southern Tier Brewing Co. Southern Tier (out of Lakewood, NY) began distributing four of their beers, I believe, across southern Maine a few weeks ago, including their Unearthly Double IPA – a personal favorite beer of mine. I just hope that if these four are successful, they'll ship their Jah*va Coffee and Imperial Oatmeal stouts as well. Southern Tier is being distributed by Central Distributors in Lewiston.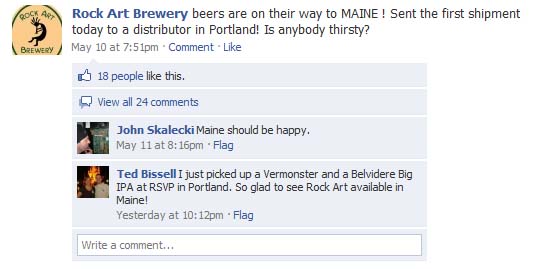 Next, on May 10th, Morrisville, VT's Rock Art Brewing Co. announced via their Facebook Fan Page that they were about to begin shipping beer to Maine via Portland-based distributor Mariner Beverage. I'm not sure how many Rock Art varieties have arrived, but according to one Facebook comment, at least the Vermonster and a Belvidere Big IPA are now available at RSVP in here in Portland. You may remember the Rock Art name from the little legal battle they had with beverage giant Monster Energy Drinks in October of 2009.
Lastly, I just discovered this one this morning: New Orleans' Abita Brewing Co. (which is actually located in Abita Springs, Louisiana, 30 miles north of New Orleans) have sneaked their way into the state. While I haven't yet seen their beer on any store shelves and Maine isn't listed on the "beer finder" page of their website yet, according to the below screenshot of an official Abita Tweet, it certainly looks like their beers should be in state by now.
This is all very exciting news as Maine finally begins to catch up with the rest of the country as far as beer availability and diversity. The summer beer drinking is definitely looking up!