Apparently, in an effort to curb binge drinking among the younger folk in England, health officials there are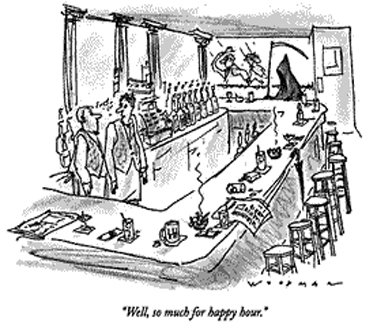 considering a nationwide ban on what are commonly known as "happy hour" discounts at pubs and restaurants. The ban proposal comes amid worries that a rise in liver-related deaths among young people in the United Kingdom may signal a future epidemic. According to an announcement on The Huffington Post this afternoon,
Health officials will decide on whether to ban the happy hours _ designated times for discount drinks _ once an independent policy review is published in coming weeks, a health department spokesman said on customary condition of anonymity.

The proposal was one of several aimed at stemming a trend in binge drinking in recent years, particularly among teenagers and young adults. The government also plans to spend 10 million pounds ($15 million) on a new public awareness campaign, and wants to improve enforcement of laws against underage drinking.
The policy review was ordered after national findings concluded that alcohol-related deaths among people aged 25 to 29 in Britain were 40 percent higher in 2006 than the year before. Trust spokeswoman Imogen Shillito told The Huffington Post that low prices for alcohol had helped encourage drinking among British youths. Noting,
"They can buy alcohol with their pocket money."
I agree that the culture of binge drinking is well beyond out of hand (or at least is so here in the U.S. – I assume the same can be said for Britain) but is banning happy hour discounts — which, according to Wikipedia, has already happened in Glasgow Scotland, on U.S. military bases, and throughout the state of Massachusetts — really the solution to solving the epidemic of the culture of binge drinking? Will you stop having a beer after work because you won't be saving a dollar or two any longer? Share your thoughts.
[image via The New Yorker Store]