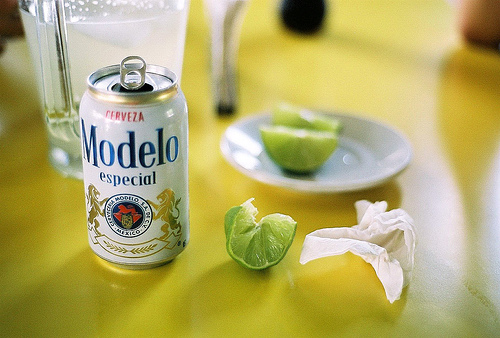 Can a beer cherished by Mexican-Americans become a hit in the general U.S. market?
That's the question Crown Imports, importer of Modelo Especial, is hoping will be answered with a resounding "yes". Crown plans to advertise the wildly popular Mexican lager to a general American audience for the first time. The company will run ads in male-oriented magazines such as Esquire, Golf, Wired and Rolling Stone, aiming to reach consumers who like to sample an array of beers.
Convincing the public to try Modelo won't be easy, though. Although sales of Modelo Especial have increased in recent years – it's now the third best selling import in the United States – the beer isn't particularly well-known outside the Hispanic community. According to TheState.com, surveys conducted by Crown have revealed that only about 3% of consumers of imported beer listed Modelo Especial as one of the brands they knew. TheState.com reports that,
…executives at Crown, a joint venture of Grupo Modelo and New York wine and spirits maker Constellation Brands, have been encouraged by recent sales growth in the general market, fueled in part by slick new packaging. They also believe that, once they get more drinkers to sample the beer, they will come back for more. "We consider this beer to be the industry's best-kept secret," said Bill Hackett, president of Chicago's Crown. "We think it's appropriate that we really pull it out from under the radar."
[image via gorriti]
[tags]Modelo Especial, Crown Imports, Beer, Mexico[/tags]
###
PS – Most of the people are suffering over weight problems and looking for prefect diet plans. A lot of diet plans like idiot proof diet are available in market to assist people in this respect. Among different weight loss products, a large variety of diet plans and diet pills are available.