Now I know there are plenty of you out there that will no doubt NOT need a reason to celebrate the much loved brew that you are probably enjoying as you read this. Tuesdays, Flag Day, Teacher In-service day, whatever! Crack one open!
But for some the celebration is part of the ritual, part of the love that he or she feels for our beloved beverage. And when it comes to parties, few can measure up to the ultimate celebration of beer: Oktoberfest.
Oktoberfest History
Oktoberfest is a 16 day festival celebrating beer held annually in Munich, Germany. The festival runs from late September to the first weekend in October. Not only is it one of the most famous events in Germany, it is also the world's largest fair as it sees more than 6 million people from around the world attending the event each year to bombard the beer tents in Munich.
The history of this festival dates back to 1810 when the Crown prince Ludwig was married to Princess Therese of Saxe-Hildburghausen on October 12, 1810. The citizens of Munich were invited to attend the festivities held on the fields in front of the city gates to celebrate the royal event. The fields were named Theresienwiese ("Theresa's Meadow") to honor the Crown Princess and have kept the name ever since. Beer was first served in glass mugs at Oktoberfest in 1892 and the partygoers have not looked back since!
But enough with the history lesson; bring on the beer!
What Are Oktoberfest Beers?
Wherever you are reading this from, I feel supremely confident that the shelves of your local grocery store are adorned with several versions of Oktoberfest beers.
Oktoberfest style beers are typically brewed in the spring signaling the end of the traditional brewing season. They typically have a rich German malt aroma, dark gold to deep orange-red color, as well as an initial malty sweetness that culminates in a moderately dry finish.
Oktoberfest Beers To Try
Here at Blog About Beer, we undertook the "painstaking" task of sampling some of this seasons Oktoberfest offerings.  This is what we found!
Ayinger: Oktober Fest-Märzen
This beer, weighing in with a 5.8% ABV, was citrusy with just a hint of caramel. With a malty bread-like aroma to start, this offering opens up with sweetness akin to a banana like taste.
Pyramid: Oktoberfest
With a whopping 6.7% ABV, (typical Oktoberfest ABV ranges from 4.8-5.7%), this beer engages the palate with a hoppy aroma, light smoke, as well as a slightly bitter taste with a dusting of caramel.
Widmer Brothers: Okto Festival Ale
At 5.3% ABV, this was the lowest ABV Oktoberfest offering that we tried. With its light bready notes and hints of malt, this beer is balanced with the fruit tones of an almost apricot flavor. 
Shiner: Märzen Style Oktoberfest
This 5.7% ABV beer was biscuity and had the dryness that is listed as a typical quality of an Oktoberfest offering. The light malt notes, the faint presence of hops, as well as the tinge of spice, all "shined" through for a complex blend of flavors.
Magic Hat: Hex Ourtoberfest
With a sweet fruit scent on the nose, this 5.4% ABV beer was a touch on the sweet side. There was not much presence of hops and had a very light smoke to it. This offering was a safe balance of flavors which also had light malty notes, as well as being sweet with a hint of caramel.
Fish Brewing – Leavenworth Biers: Oktoberfest Celebration Ale
With a 5.5% ABV, the heftier mouth feel of this offering was deceptive. Comprised of a complex blend of hops, smoke, and a touch of spice and sweetness, this beer rounded out our samplings very well. For those of you outside the Northwest, this will be a tough beer to find.
Pairing Food With Oktoberfest Beers
Pairing food with these beers was beyond easy! Sticking with the traditions of the festival, giant soft pretzels were enjoyed by our team here at blogaboutbeer.com.  We also complimented the pretzels with Allgau Emmentaler, commonly referred to as Bavarian Swiss, arguably the most famous cheese made in Germany!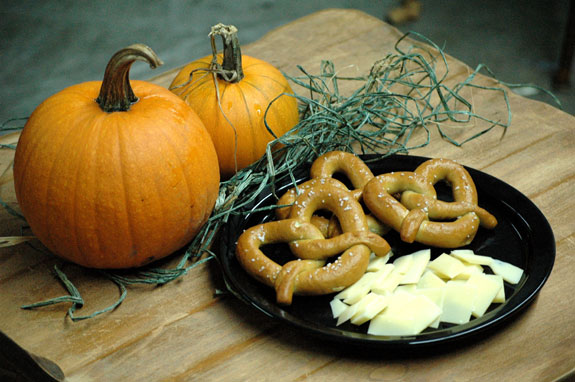 So cinch up your Lederhosen, get your pretzel out of a knot, and get yourself some Oktoberfest beer to celebrate our cherished beverage with all of the pomp and circumstance it deserves!
In the comments below let us know what your favorite Oktoberfest beers are.